Builder Interview: W. H. Bradford
July 01, 2019
We recently featured the Island Hopper bike from Sacramento builder Brad Hodges, who builds as W.H. Bradford. We sat down with Brad to learn more about his background, how he got started, and his process for building the works of art he puts out into the world.
Whisky: When and how did you get started in building bike frames? How did all of this come to be for you?
Bradford: This kid down the street from me got a 1985 GT World Tour in teal with purple mag wheels, and the day that I walked over to his house and saw that bike, my world changed. I can't tell you the effect that seeing that bike and that color combo had on me at that point in my life. I started reading nothing but BMX Action. I was 100% BMX all the time.
I had a bike at the time but couldn't really ride it—I had some sort of balance issue. I couldn't start or stop, but once I got the momentum I would ride fast as hell. So my dad would take me down to the local high school and push me and my bike from behind so I could get going, but then I wouldn't know how to stop and I would crash.
It wasn't until years later that I remembered that teal 1985 GT and thought 'I need to do bikes again.' One thing led to another and I got a BMX scooter and then a freestyle bike. There was a very strong cycling scene in Cupertino when I grew up. I lived in an area where everybody had a mountain bike, everybody rode, everybody understood. Everybody in my neighborhood was a maker and had machines or tools in their garage and they were always willing to share knowledge, which helped me formulate my path toward bikes.
I had set up meetings with Alan Brown from Ozone bikes back when I was in 8th grade and actually kind of pitched him a bike that I drew. Alan was really supportive and said, 'you need to keep going with this.' And so I just always kind of knew in the back of my head that I was going to be a bike builder. Over years of learning and tinkering and working in bike shops, then eventually getting a job at Santa Cruz, I got to the point where I was like 'OK, now I'm going to start building bikes.' A couple of my friends in Sacramento were already starting to build BMX frames and they told me I needed to buy a frame jig and a mill. In 1998-1999 I was able to start building custom BMX frames and other things that I'd been designing for years before that.
I started a BMX bike company called Four Bike Co. and was building frames for that, and worked with Kinesis USA on a 24" aluminum dual slalom bike to sell in the Tokyo market. So before I knew what was even going on, I had a couple hundred frames under my belt and was running two bike companies. And then I regressed back to becoming a frame builder. It's been a long road.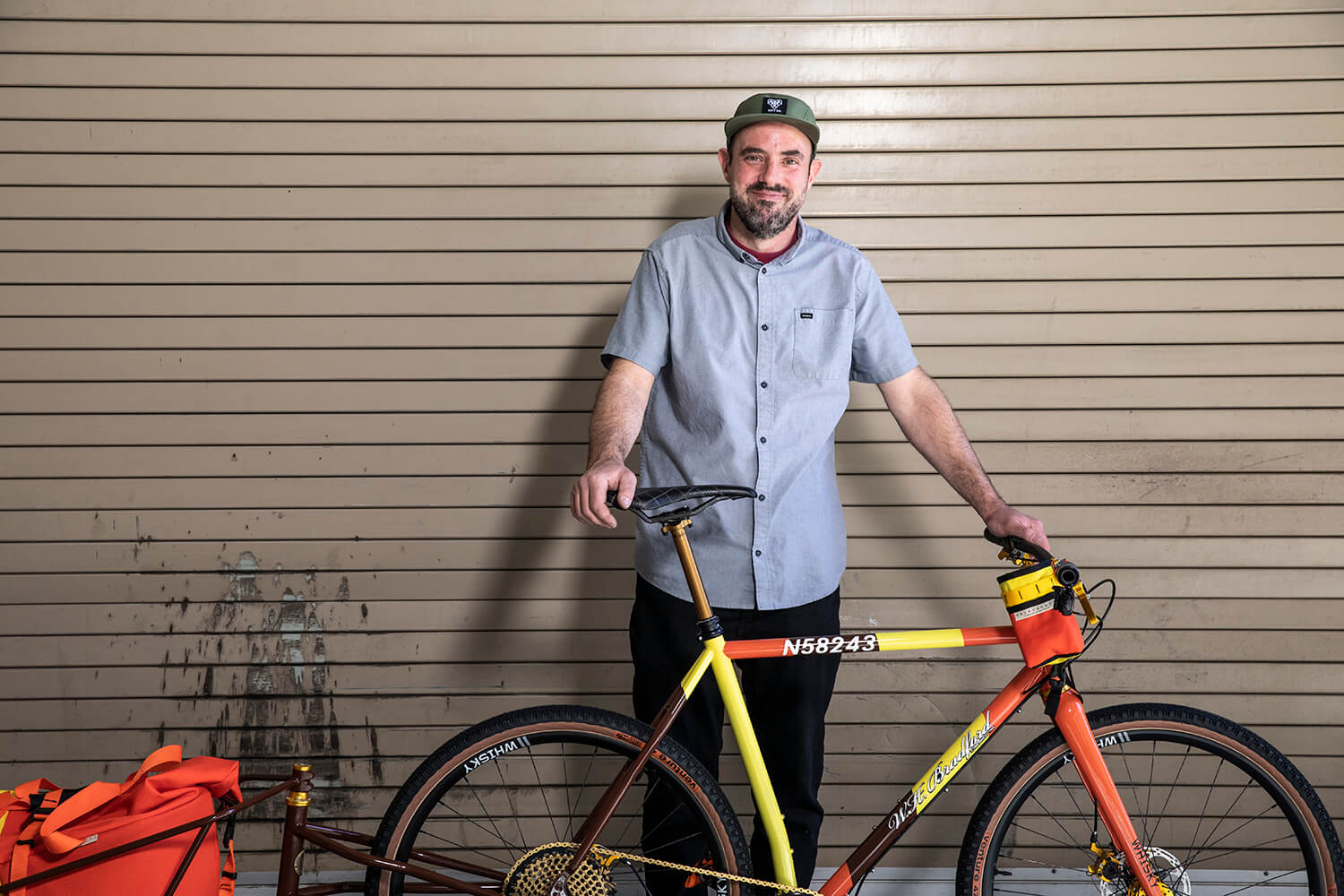 ​
Whisky: How did that transition back to frame building happen?
Bradford: Well, I was 24 I just wanted to go shoot photos and videos and race but my bosses in Tokyo really wanted me to handle distribution and sales and crunch numbers all day long. We ended up parting ways and I took a couple of years off and moved to Ashland, Oregon and bought a Yeti downhill bike and raced mountain bikes for a few years. Then I moved back to Sacramento and decided to really focus on frame building. I designed a built the first Nemesis Project frame in my parents' garage around 2004. I started out Nemesis Project doing freestyle mountain bikes and play bikes that you could ride on dual-slalom courses or go dirt jumping or just ride on the street like you would a BMX bike. BMX was having an identity crisis at the time and I wanted to do something new and creative.
I worked on those bikes and pioneered what was the freestyle mountain bike from about 2004 to 2014. Then fixed gear came up—this was maybe 2008-2010—so we started making a lot of fixed-gear bikes and I helped pioneer what became fixed-gear freestyle, taking track bikes and incorporating aspects of a BMX bike.
Then fixed-gear freestyle started having its own identity crisis. I started to get more into bicycle touring and I rode a bike that I built down the coast to Los Angeles. It really opened my eyes to touring and I could see that it was a broadening market. I started working on the W.H. Bradford line around 2010 or 2011. I spent a couple of years figuring out geo and working on frames. I built an adventure racing/bikepacking bike and we did some cool stuff with a Whisky No.9 fork where we put the water bottle bosses on the outside of the fork—I showed that at NAHBS 2016. That year I really wanted to establish my brand and show people everything that I'd been working on. NAHBS has sort of formulated the path for the company, but we've also tried building some crazier bikes so I can let my artistic side run wild.
This is a carousel. Click Next/Previous buttons or a slide thumbnail to jump to a slide.
Whisky: What inspires you to get up and design something new?
Bradford: I'm mostly focused on getting my manufacturing processes dialed. At NAHBS 2014, my former welder, Joe, called and said he couldn't work for me anymore because he and his wife had just had their first child. So I was at the show and actually getting orders, but I had to take a step back from that realize that I needed to figure out how to do this myself. I could do tooling or cut tubes or set the jig up or design, but I never learned to weld. So I took a year and really didn't put anything out but I taught myself how to TIG weld while also going to school to learn 3D modeling so I could actually do CAD again. Right now I'm mainly concentrating on being able to build the bike and make my welds look good and become a better TIG welder, a better frame builder and streamline the business so that when someone orders a bike it only takes us 30 to 45 days to fulfill.
Whisky: Do you have anyone else working with you at W.H. Bradford right now?
Bradford: I handle everything. I run the day-to-day business operations. I take the orders, do all the design work and also weld all of the frames—it's a ton of work. The only thing we outsource now is powder coating or wet paint.
Whisky: Who does your paint work?
Bradford: Right now, all of our paint work is done by Eric Dungey up at ColorWorks in Eugene, Oregon. Our powder coating is done locally here in Sacramento. In the past year, we actually stopped using vinyl stickers on our base model frames—we now do a powder coat base with airbrush graphics and a wet clear coat over that.
Whisky: What do you feel makes your custom bikes unique?
Bradford: I try to be pretty humble about my bikes, I like to let them speak for themselves. I guess I try to make a bike that speaks to the end user. Obviously I have a very broad range of bikes, because there are a lot of different people out there. At NAHBS, we brought two different gravel bikes, a couple of different mountain bikes and then the trailer bike. And I tried to kind of show people that as a builder I have a depth of knowledge and I can build almost anything. I like my bikes to be a bit more race-oriented, but I want people to be able to go out and ride my bike all day and hammer on it and come back at the end of the day with a huge smile of their face.
Whisky: So you started with BMX and mountain—what kind of riding do you do now?
Bradford: Recently for NAHBS, I kind of rebuilt a CX/gravel bike I built for Grinduro that had been my go-to bike. This time around, I increased the bottom bracket drop a bit and lowered the bottom bracket height to make it more all-road friendly. So now it's not intended as much for gravel or CX, it's in between what my CX bike is now and what my road bike is. It's really comfortable.
In Sacramento I ride a combination of all-road and gravel. But I do go down to San Francisco and Santa Cruz and ride a lot of mountain bike trails.
Whisky: Can you walk us through your process from order to shipped bike?
Bradford: We start by figuring out what type of bike the customer wants and what parts they want to run on the bike to establish frame standards. Then I'll ask them if they have a specific frame fit or whether they have been fit. If a customer hasn't been fit professionally, I usually strongly suggest that they go get a series of fit numbers so that I have something to work with. Once I have sizing numbers, I then develop a BikeCAD model. I'll go through and develop as many different models of a frame as possible for a customer so they can see exactly what they're getting. Once I get finalized BikeCAD models, I order all of the raw materials that I don't already have in stock.
Once the bike comes up in the build queue, which is usually within one or two frames because I don't have a huge wait list, I set the jig up for their geometry and start welding. Once the bike is welded, I ream the head tube on a dedicated lathe to get the head tube bore correct. Then I chase the bottom bracket threads, ream the seat tube, double-check rear axle alignment, and send it off for paint.
Whisky: As you're going through all of that, are you in constant conversation with the customer?
Bradford: It's very rare that I have a customer that isn't in full contact with me during this time. Usually customers are watching my Instagram but I'm also emailing or texting them photos of the entire build process. I like it when a customer is involved with the bike. The best part is when customers text you during the build and they're like 'Hey I just heard about this new component or this new technology, can I do this or that?' And hopefully it's not something that necessitates a change with the frame, but when they're seeing things like SRAM blips and they want to have them on the handlebars, I'm always like 'Sure, we can add that to your bike, let's do some cool stuff.' And that's the point in the build when some of the most creative things happen.
Whisky: What would you say is your favorite part of any given build?
Bradford: The most fulfilling thing is a day or two after the customer gets their bike and I get that text where they say, 'Oh my god, I just did this on my bike. I can't believe how cool that was.' That's what makes everything worthwhile. While there are aspects of the build process that I love, like putting the head badge on and drilling and tapping the head badge. I like the whole process. I love the initial consultation with client all the way up to when they have the bike and they're riding it and still contacting you.
Whisky: You mentioned your head badge. Where did your head badge design come from? What is it? Is there a story behind it?
Bradford: There's a cute story behind that. There's a redwood tree pictured on my head badge, and that is actually the redwood tree that my grandmother planted for me in Big Basin State Park when I was a little kid. Big Basin State Park is the place where Gazos Creek Road originates and leads out to Highway 1 to the coast—my gravel bike is actually named after that road.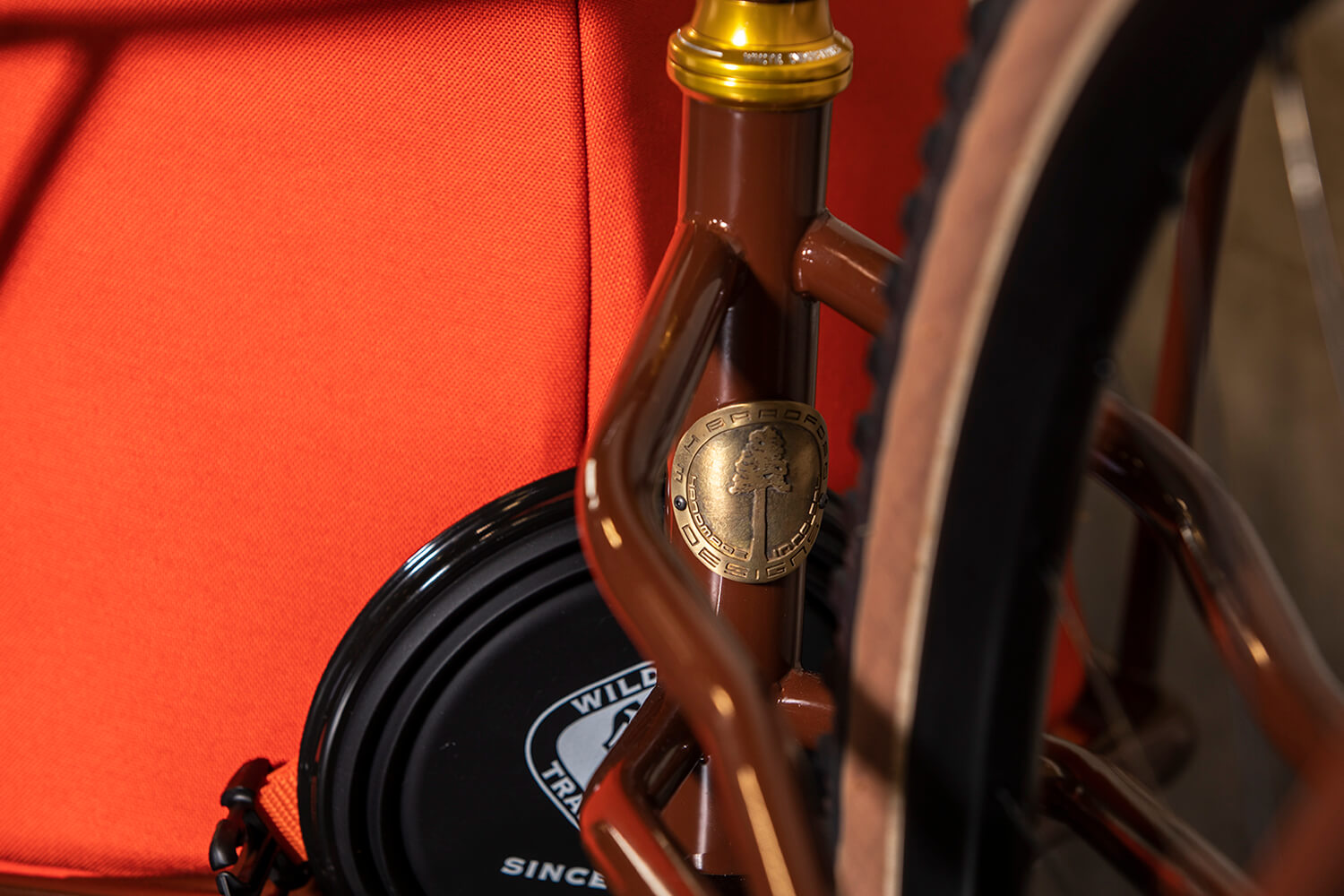 ​
Whisky: What is your next big goal for W.H. Bradford?
Bradford: The number one thing that I'd like to achieve over the next year would be better brand recognition. I want people to know about my bikes. I want people to know me. I want people to say 'Hey, listen, I've seen you online and I know that bike.' I think that right now I'm one of those builders who completely flies under the radar, and I definitely bring some pretty powerful work to the table. And I think that a lot more people need to know about that.
Brad's journey into frame building has certainly been full of interesting turns, and his bikes are excellent displays of his varied influences over the years. Check back here next week for part two of our conversation, in which we discuss the inspiration and methods behind his 2019 NAHBS Island Hopper bike. Stay tuned!