Curtis Inglis pt.1
We recently featured the personal bike of acclaimed custom builder Curtis Inglis. The signature sloping style of his Retrotec bikes has been a staple of the custom bike building scene, and this year marks the 25th anniversary of Retrotec. So, we sat down with Curtis to learn more about his work, his inspirations, and his favorite, underrated features.
Whisky: After 25 years with Retrotec, what drives you to continue building these types of bikes day after day?
Curtis: Umm, making money? (laughs) I mean, I wouldn't be doing it if I hadn't survived off of it all this time. But it's not just about the money. I actually really do enjoy building bikes. When I got out of the service, I was going to school, and I ran into Retrotec at a bike race and got a job with them. They'd been around for about a year or year-and-a-half before I got there. I thought I'd only be doing it for a summer. I literally thought I was going to build myself a bike over the summer and then go out and get my real job. But it just never materialized. I just kept doing this because I really enjoyed what I was doing. It's just an enjoyable thing to do. Other people can make tons more money doing something else that, other than money, doesn't do anything for them. But to see people super happy, riding my bikes around is a pretty good thing. And that keeps me going.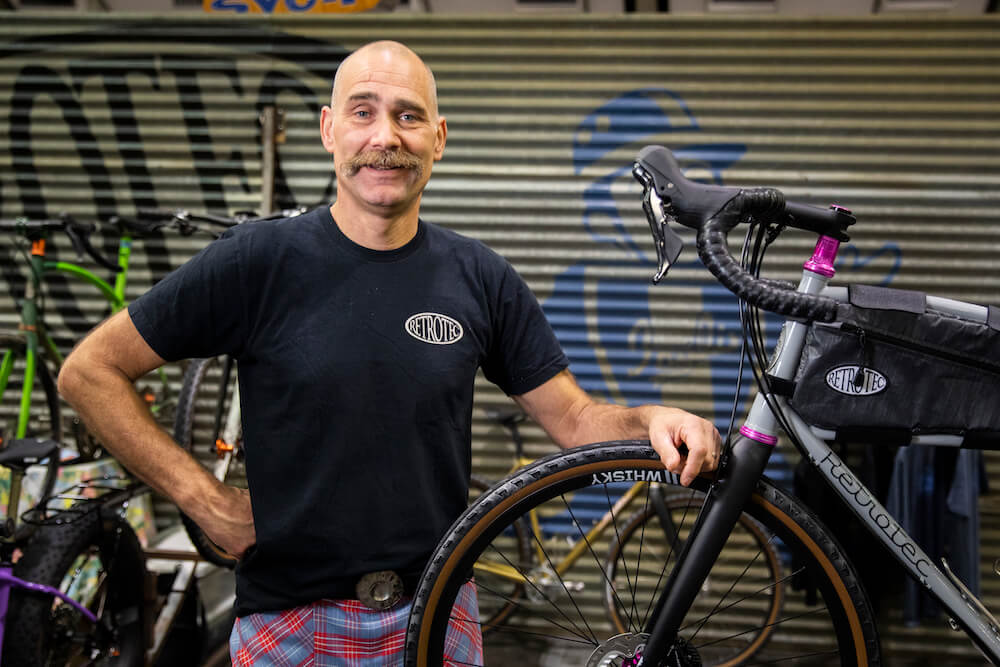 Whisky: Do you have a favorite style of bike to build? And what kind of riding do you like best?
Curtis: For building, probably the Retrotec Twin. There's a certain amount of time it takes to build, but it's pretty quick in some ways and a little bit more time consuming in others. I think I have the process down though. I love the look of the Classic, but they just take forever. So, the Twin is probably my favorite, I like that aesthetic and I have fixturing for everything, so there's not a lot of fiddling around it.
I would say mountain biking is my favorite kind of riding. That's probably what gives me the biggest grin on my face. Road riding where I live is spectacular, so we do a lot of it because it's right out my door. And riding your cross bike off-road is always fun. I guess now we call that gravel riding. I wish I would have joined the bandwagon of the gravel terminology earlier. (laughs)
Whisky: When describing Retrotec bikes, you use the term "Classic cruiser lines with modern geometry." What does that mean from a design standpoint, and how you resolve those two very different things?
Curtis: When I'm making somebody a road bike, I can take their measurements and speak with them about what they're looking for, how they want the bike to handle and ride, and what kind of ride characteristics they want. And then I take that and use it to guide the drawing. If I was building them an Inglis (Curtis' straight tube brand of bikes), that's pretty straightforward. I put the reach and their hands in the right positions, so they're seated over the crank with the seat angle and the setback on the post in the right place. You get the idea. But with Retrotec I'm doing the exact same thing while also trying to make it as aesthetically pleasing as possible. So even though they might be the same measurements, the difference between those two bikes is that the Retrotec has a sloping top tube and a much shorter seat tube to fit the aesthetic.
Whisky: In your experience, is there any performance benefit to having the curved tubes that your Retrotec bikes do?
Curtis: Yeah for sure, there's a small amount of compliance benefit that you get from having a curved tube over just a standard seatstay. And I'm not trying to tell you that it's way more efficient or whatever. But it's like when you compare an aluminum bike to a steel bike and the steel bike has a slightly lighter feel, I think the Retrotec's back end with that curved seatstay just has a little bit softer feel for a rigid bike.
Whisky: Besides the curved tubes, are there any other defining characteristics of your Retrotec bikes that you think get overlooked?
Curtis: I guess the part for me is the fillet-brazed section around the seat tube where the seatstays and the top tube come in. That all gets fillet-brazed. So, on a Retrotec Classic frame, there's hours' worth of work being done there. I don't like the way that area looks when it's TIG welded. To do it in TIG you have to make the tubes not hit right where they flow the best, so I just suck it up and fillet-braze that section. It's kind of a drag that you're selling it as a TIG-welded bike, but the hardest joint on the bike is fillet-brazed and I'm still cleaning that up for hours and putting extra work in. I think that when the end user understands that they really enjoy it. But in a photograph, it doesn't come across that I spent three hours on that section. So, people tend to forget about that.
Also, my dropouts. You know, other people will use these really unique-looking dropouts or dropouts with their names in them. But that would have taken away from the Retrotec look. I think the Retrotec looks best with just a small, simple dropout. And if it was really tall or some other shape, that might work great for one size, but then the next five sizes would have a different arc and it wouldn't look good on those. So, the idea of sticking with something simpler doesn't get talked about much.
Check back next week for part two of our interview with Curtis Inglis, when we dive into the story of how his personal bike came to be.