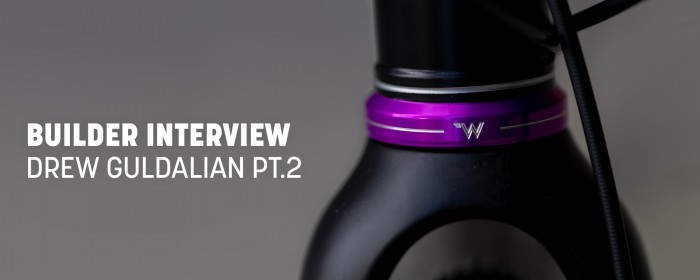 ​We continue our conversation with Drew Guldalian from Engin Cycles, talking about some of the more unique features found on his ultimate creation.
On your Instagram you called this bike "possibly the ultimate bicycle." Was that speaking towards the final goal of this particular build?
Drew: I definitely think it's the ultimate bicycle. I mean, everybody needs to have a full-blown mountain bike, but just about everything else can be done with that bike. Besides a bonafide mountain, not much is going to hold that bike back. You can ride it on pavement for 100 miles, you can ride it on gravel for 100 miles, you can ride it to work, you can go on a loaded tour with it. There is very, very little that that bicycle is not going to do, and it will actually do each one of the things that it's designed to do quite well without having to make a bunch of compromises.
That one actually started off being described as a monster-cross bike, or some people were calling it a gravel grinder. Or saying 'It really is just a road bike, right?' Except it's a road bike that can go anywhere. And that's what's cool.
One of the first things I noticed about this bike was the dropper post. That's not a normal thing for this style of frame. Where did that idea come from and how did you make it work?
Drew: I actually convinced (the buyer) to let me do the dropper post because it's a huge benefit in technical sections and on long climbs. The left shifter controls the dropper
post and having that control at your fingertips is what really makes it useful. If you're taking your hand off of the drop bars to reach for another lever, you're not going to use that dropper post. But I'm telling everyone I can that dropper posts on non-mountain bikes are gonna be the next big thing. So that's how I talked him into it.
Were there any other unique requests for this bike that were challenging for you?
Drew: The main thing was the tire size, which was sort of addressed in the front by the Whisky fork. But then I had to work on a yoke and seat tube that would fit the same tire but still keep the chainstays as short as possible. So I made a slightly curved seat tube that still fits a dropper post and a yoke that allows for a double crankset and a 50 millimeter tire. But I had to make all of the stuff that then allowed me to build with no compromises.
How did you make a yoke that would fit the tire but still support the frame?
Drew: I used a CNC machine to create what's called a clamshell. The clamshell design isn't revolutionary by any means, but it's one of the only ways that you're going to yield a hollow part. You have to create two matching halves of the piece, cut out the insides and then weld them back together. I started making these yokes for my mountain bikes about three years ago, but just this year I put the effort into making one for road bikes. I kind of just accepted that it was going to be a harder part to make because the yokes that I make aren't symmetrical. So each half is the mirror image of each other. So I have to machine twice as many parts to make each yoke, and that takes quite a bit of time.
Esteemed custom builder Curtis Inglis from Retrotec is back to talk more about the goals for his personal bike, trying things before building them, and why he chose the parts he did, including Whisky carbon.
Whisky: What was the defining idea behind this build?
Curtis: I wanted to replace my 'cross bike. I don't race 'cross all that much and the few things I wanted to accomplish with it, like a bit lower bottom bracket and the ability to run a bigger tire kind of put me in that all-road/gravel area. But that was basically it, I wanted another 'cross bike that I could take on the road. The last 'cross bike I built with a little bit lower bottom bracket didn't have the clearance for a 43mm tire. So on this bike I wanted to be able to fit a 700c x 43mm tire but also run a 650b wheel set, so I made sure that tires in both of those realms would fit.
Whisky: Why did you want to try 650b tires?
Curtis: I wanted the ability to do that on this bike because I've had a few customers ask for that and I wanted to try it for myself. I've built quite a few bikes that could accommodate either 700c or 650b wheels, but I've never had one of my own. Everything else I do for customers; I've at least tried in some way so that I have an idea of what's going on. It felt really weird to sell bikes to people when I had never done that before, so I wanted to ride a bike that could take either 700c of 650b wheels and get a better understanding of what people are expecting when they ask for it.
Whisky: This is a very big bike. Did that present any unique challenges or opportunities for you?
Curtis: Yeah, you know, the older I get, the more relaxed geometry bikes I keep building for myself. And the head tube has grown a lot over the last 25 years. But it makes sense that I wouldn't want the same geometry that I had when I was 20. I just wanted to be more comfortable when riding super hard and doing the longer, more aggressive rides. And it's amazing just how much more comfortable I am on this bike now.
I also wanted to make sure that I could carry a lot. I wanted the bike to be able to carry two full-size water bottles and as large of a bag as I could get. That space is so big on bikes my size, and the head tube is really tall, so there is a lot of room to fit a bag. I bounced back and forth between making the second top tube straight or curved. And I went with the straight tube because I wanted that bag to be as big as it could be. Somebody asked me about shouldering the bike, and the funny thing is, I never even thought about shouldering that bike when I was building it. All I cared about was that the frame fit correctly, the bag was as big as it could be and I could fit two bottles.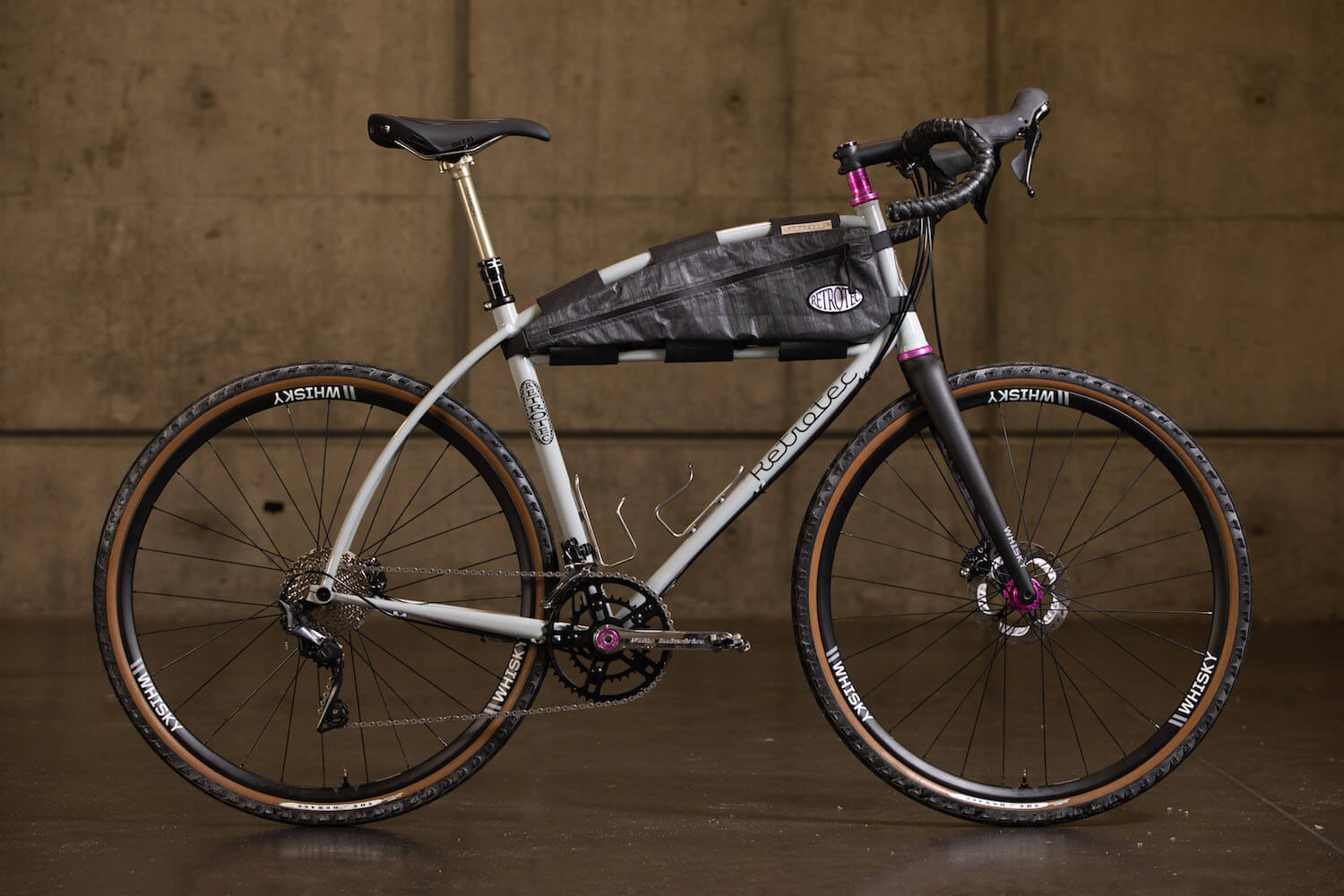 Whisky: Your frame bag was custom made by Outer Shell just for this bike. How was it working with them and how did that come to be?
Curtis: Kyle (at Outer Shell) has actually built a few bags for me before. The first bag he did for me was for my wife's e-bike and he told me exactly how to do it: Take a straight on side shot of your bike with a ruler taped to the downtube and then he would scale that up on the computer and it would all fit perfectly. I didn't believe him, so I drove down to San Francisco and HE did that with a ruler. Then he said, "You know I'm like… a computer guy, right?" And it was one of those funny moments. I just couldn't fathom the idea of doing it all on a computer and having it actually work. But yeah, I built the bike knowing I was going to put a bag in there. So, before I had it painted, I emailed him a photo and a couple of weeks later, he sent the frame bag back down. And it's perfect.
Whisky: What lead you to select the Whisky carbon parts for this build?
Curtis: A bike this size can get really heavy, so it seemed like a good idea to build around that. My last bike used a Whisky carbon fork as well, and I really liked it. So, I wanted to try one of your new ones. I also had a pair of Whisky 700c wheels that were great, and the newer version is even lighter and more refined. So, I wanted to try those too. And it's been great.
For the colors, I just really like the pink from White Industries. I think it's a nice shade, and it's such a nice combination with the gray. This year at NAHBS it really struck me that most of my bikes are single colors. Amongst this sea of $800-$2,000 paint jobs I had six bikes in my booth and I think four of them were single-color bikes. I hope it's not a detriment to my business [laughs]. I just really enjoy a bike that's meant to be used, and the ones that get used the most usually don't have $1,000 paint jobs.
Thanks again to Curtis Inglis from Retrotec for sharing and congratulations again for 25 years of crafting great looking bikes. Curtis takes orders all year 'round, and still has limited 25th Anniversary headbadges for sale. Check out Part 1 of our interview if you missed it, or see the full photo gallery here. Then check back again soon for more!
Last question: Do you have any upcoming projects in development that we should be on the lookout for?
Drew: I can tell you what my five-year goal is: I want to make a full suspension bike. I would really like to get ahead of the curve when it comes to the parts that I make currently. And that would allow me more freedom to experiment with something else. And that something else would be to make a full suspension bike.
Thanks again to Drew Guldalian from Engin Cycles for sharing this amazing build as a part of Whisky Select and for taking the time to talk with us. Be sure to check back here soon to see more beautiful bikes and let us know who you think we should talk with next.