Kevin Wolfson pt.1
Our latest Whisky Select bike was truly a diamond in the rough, standing out among an already exquisite collection of work from the team at Firefly Bicycles in Boston, MA. This four-person creative powerhouse has been consistently wowing the industry with their custom Ti frames and anodized graphic finishes. But how did they get to where they are now? We caught up with Kevin Wolfson to talk about the company's history, process and the importance to connecting each rider to their bike on a personal level.
How did Firefly Bicycles begin?
Kevin: We all met while working at Independent Fabrication and started Firefly in early 2011 after Independent decided to move to New Hampshire. We all have strong ties here in Boston. Two of us owned houses in Boston at the time. I was born and raised in this area. So, we all wanted to stay here. We also had our own ideas about how we would start our own dream custom bike company, so we took that as an opportunity to do it. So, we started Firefly that year and haven't looked back since.
How did you build the company into what it is today?
Kevin: Since we started, I think the way that we've approached the development of our business and of the bikes that we make is with little improvements. Constant, little improvements. So, we were already building great bikes when we started, but from the beginning we worked on ways to improve production and make it more consistent or more efficient. And then we also worked on ways to improve the little details of our bikes. For example, our drop outs have gone through a number of re-designs. From the initial design to a thicker CNC machined drop out, and we have a few other exciting developments in the works now as well. We've just always worked on improving our work piece by piece.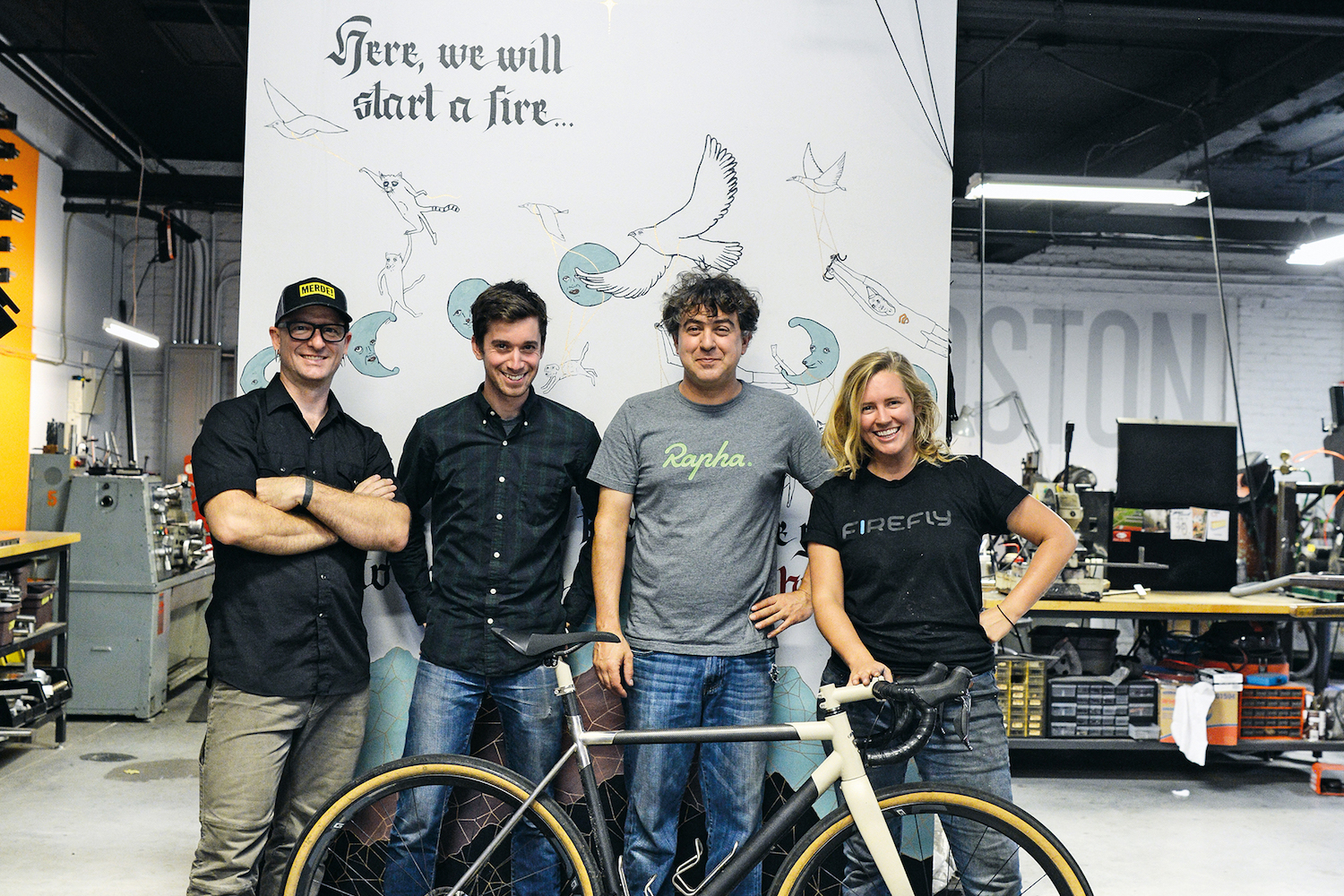 How did you settle on the name 'Firefly'? And what does it mean to you?
Kevin: It was Jamie's idea initially. He and Tyler were throwing ideas back and forth for a while and weren't landing on anything that was quite right. Then Jamie thought of his childhood growing up in Rhode Island, spending summers catching fireflies in a field. He was drawn to the memory of that feeling. Jamie suggested it to Tyler and at first, he hated it, but then Tyler started drawing some potential logo designs and started to like it. The more all of us thought about it, the more we liked the idea of a name that connected to a feeling. So, for us, the name Firefly has never been anything literal. It's been about that sort of magical summer feeling you get when you're doing something that you enjoy.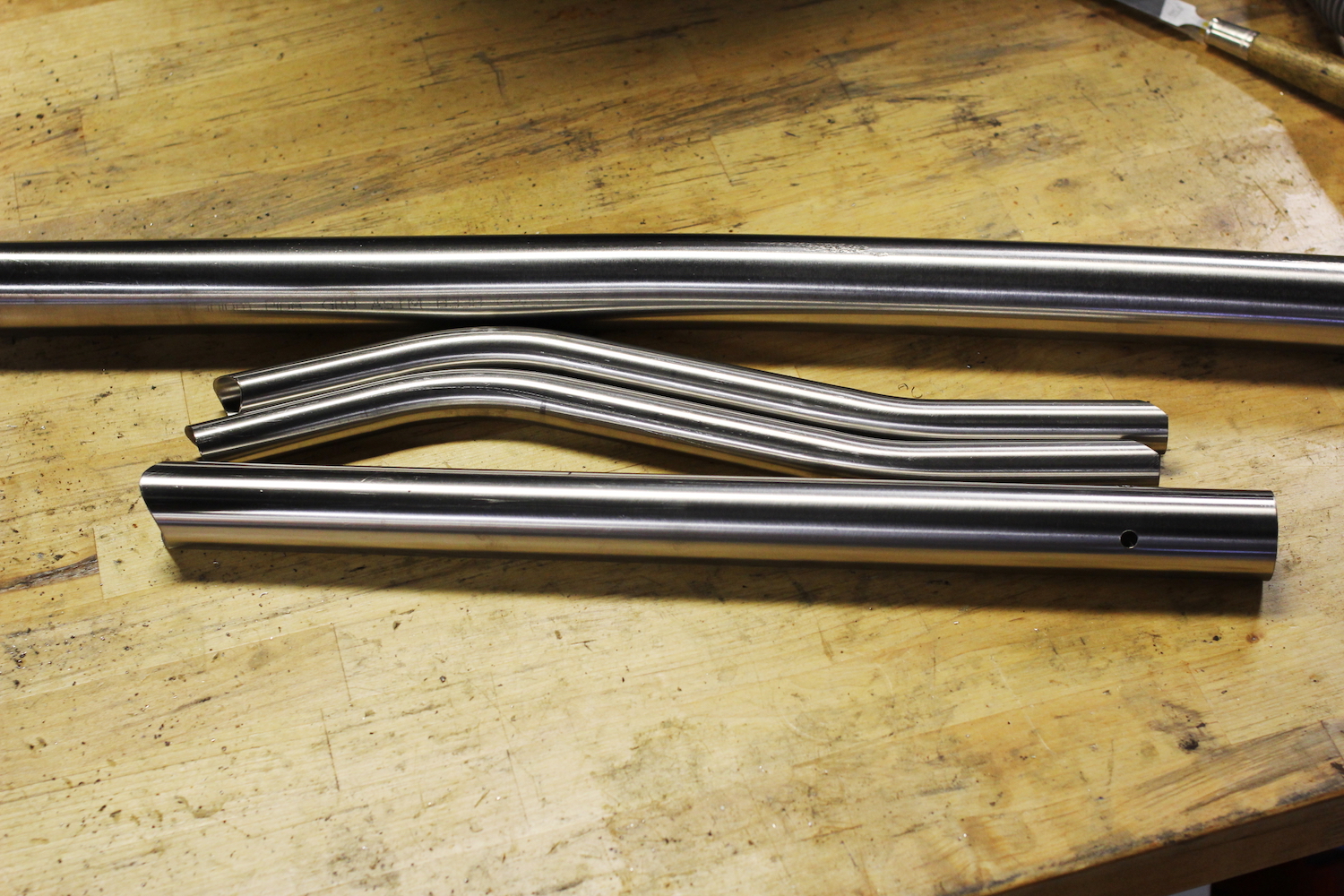 How do you share responsibilities between the four of you?
Kevin: We have a segmented system that has worked really well for so far. I do the customer fitting and the frame design. I'll print a build sheet, which has all of the geometry and tubing information. Jamie takes that and uses it to make all of the raw materials and does all of the machining to create a tack welded frame. He'll do all of the butting on the titanium tubing, bending, shaping, mitering, and then tack the frame together. Then Tyler does all of the welding, alignment and final machining. Then he hands it off to Ellen and she will do all of the finish work. When we're doing custom graphics Tyler and Ellen will work to get together on designing those. Often Tyler will take the lead on doing the design, and then they'll work together on the technical execution and actually apply the graphics to a frame. Throughout this whole process I will also document the process with photographs of each stage to share with the customer. We all have our own areas of expertise and are able to focus on applying that expertise to each bike.
What makes a Firefly bicycle different that a bike from another custom builder?
Kevin: Yeah, certainly the graphic design is one piece of it. But beyond that the attention to detail with small parts like the drop outs, our custom seat collar, the stem and seat post parts that we have custom made for us, the 3D printed chainstay yokes that we will use on all-road frames, all of those little details help to set our bikes apart in terms of the function and the versatility and what they're capable of. And especially as a small company, we take a lot of pride in how much work we put into those details. Instead of using stock parts that might be easier or cheaper to come by.
Another piece that I think separates us is how we approach the processes of designing and building bikes. One of the reasons we like being a small company is that it allows us to work directly with most of our customers. By working directly with most of our customers, we can get a really clear picture of the type of riding they want to do, their goals for the bike, and how we can help them to achieve those goals. So, in the end, we think it makes for better quality bikes, but also that our process makes the experience more interesting and more engaging for the customer to hopefully give them a stronger connection to the bike once they get it.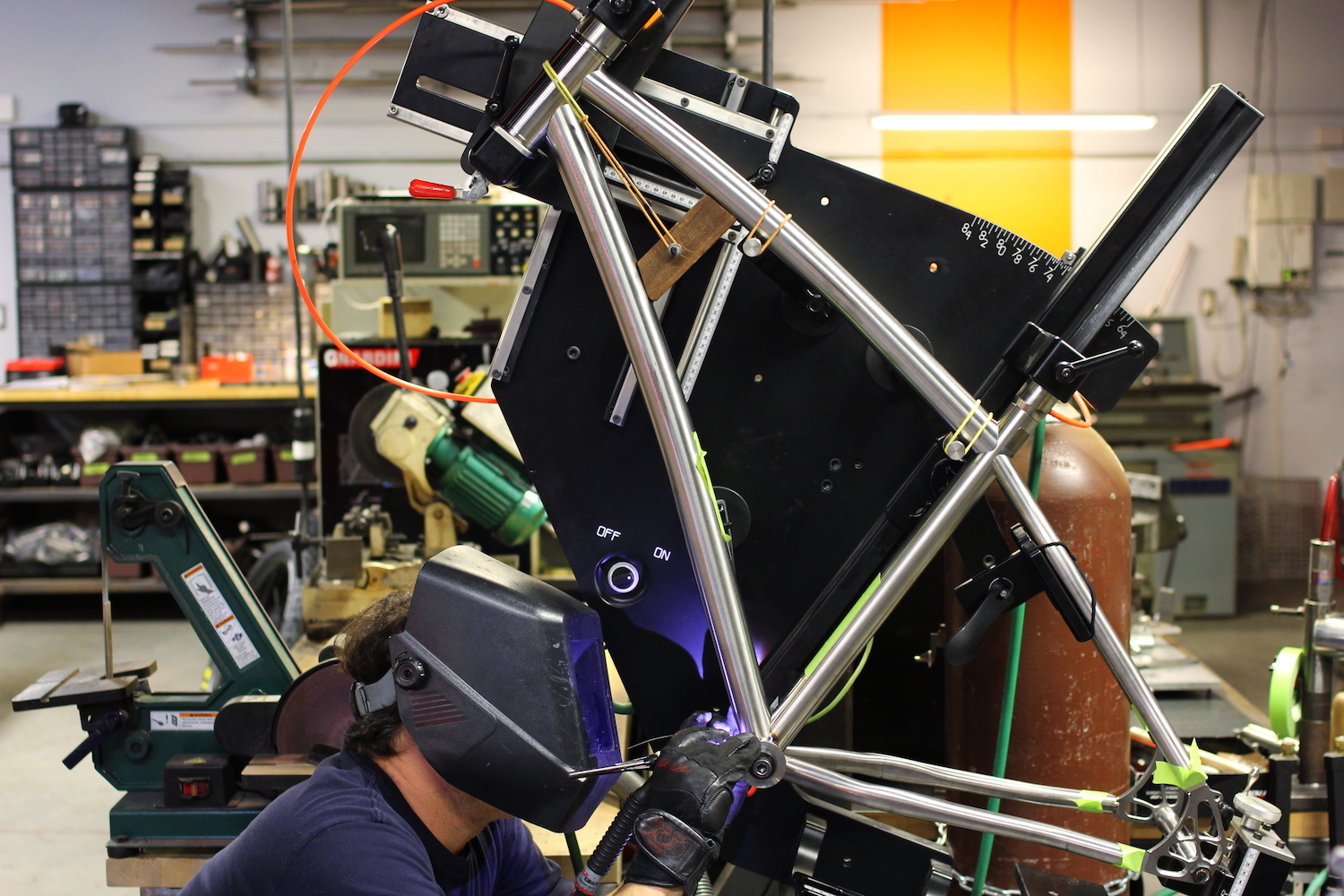 Firefly bikes are easily recognizable in the cycling landscape thanks to their beautiful Ti, ano graphics. How do you do that? And was that design element always something that you guys wanted to focus on?
Kevin: Yeah definitely. It's kind of a funny story. We knew from the beginning that we wanted to have a strong focus on design and clean, good-looking graphics on our frames. And a focus on Raw titanium finishes that really honored the material. But at the beginning, we did not have any intent or idea to use anodized graphics. And what happened is that we were working with another company to make the decals for our frames, and they were supposed to be a really nice, durable, chemical transfer decals. We ordered a lot of them, ideally enough for a couple of years' worth of frames. But we could not get them to work at all. We tried all sorts of different things, we had superstitions and they just wouldn't stick to the frames. The company who makes the decals sent someone out to try to get them to work. And again, we just couldn't make them happen. So, at that point, we were kind of stuck and needed a way to apply graphics without the decals that we initially intended on using.
Coincidentally, at the time, Jamie had a homemade titanium anodizer in his garage. That's just the sort of guy that he is. So, he brought it in one day and was like, "What if we try this?", and he applied it to a titanium tube. We knew basically right away that was the direction we wanted to take things. That homemade anodizer was pretty simple. It used a light bulb as a resistor to help control the voltage. But since then we have gotten an actual anodizing machine which gives us a lot more control. And we've developed a lot more technique and skill in terms of getting the colors right and getting the graphics to be crisp. And we are always pushing new ways of applying graphics to our frames.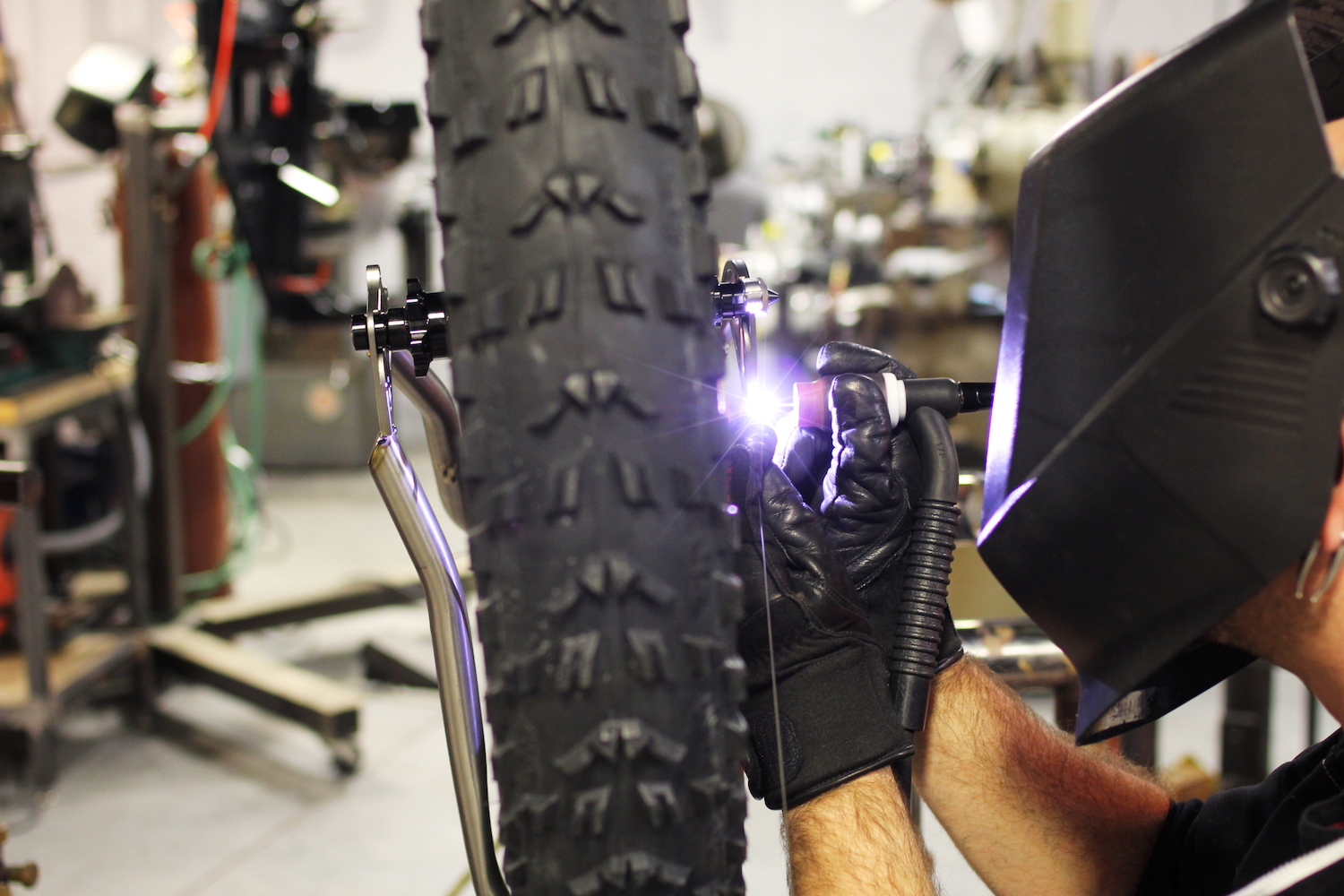 What is the process of customizing a personalized Firefly bike look like?
Kevin: It varies a little bit from person to person but for most people, they work directly with us. So, someone will reach out to us by phone or email and say they're interested in a bike. And always the first question that we have is, what type of riding do you want to do? What type of riding do you like to do now? And what are your goals for a new bike? What sort of problems can we solve? Or what compromises can we get rid of by building you a new bike?
From that point, we have some really basic categories of bikes. We don't have model names. We make road bikes, all-road bikes, cross bikes, mountain bikes, commuters, touring bikes, and we'll use one of those categories as a starting point. But then we work with the customer to understand their needs, and design all of the details from that starting point to turn it into a truly custom frame for them.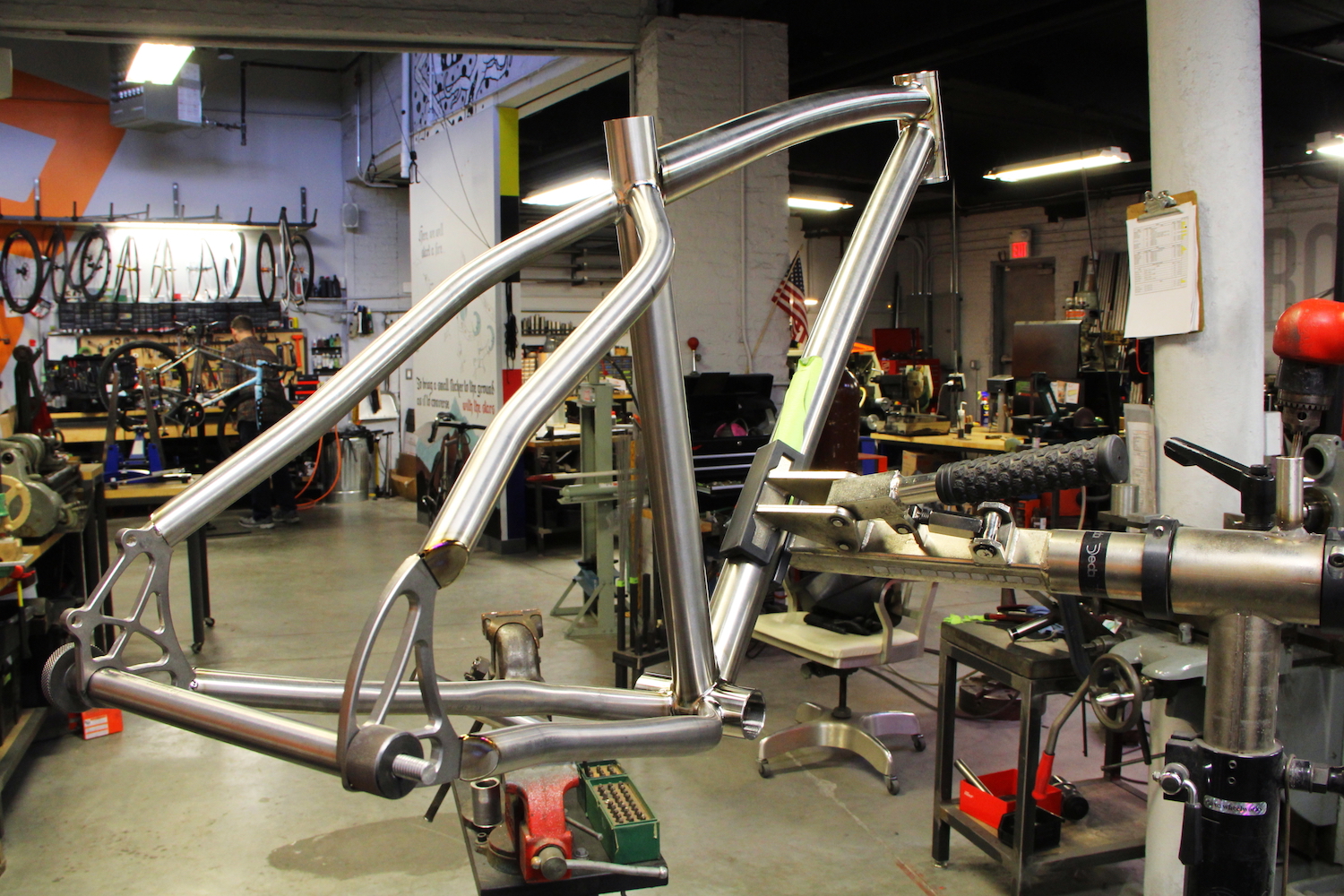 For the fit, usually we'll start with a custom fit form, which asks for some basic body dimensions and current bike dimensions that anyone can take at home. We'll use that as just one piece of the information. We'll also talk to the customer about how they like the fit of their current bike. Often, I'll ask for a video of them riding their current bike to get a sense for their posture on it, and how we can improve their fit. And then I'll come up with a frame geometry design proposal that outlines any changes that I might suggest.
Often, it's possible to make those changes on their current bikes so they can try out and benefit from any of the changes that I suggest. Then we'll continue to refine the design from that point. In that process we will also talk about the handling and ride quality and all of the other details that go into sort of the functional end of the bike. Whenever possible, people will come here and get fit in person. And we always welcome that. Probably about a third of the customers we work with come to get fit in person at some point during the process. And then beyond those kinds of major elements of the frame design there's always a lot of time spent talking about finish design. Whenever we do full builds, which is most of the time, we also talk through the components, and work to find the right component selection to meet the customer's needs. By including them in every step of the process from start to finish, we get a bike that best suits the rider, and invested customers that feel like it is truly their bike.
Kevin and the team at Firefly have certainly created a recipe for success. Check back here again next week for part 2 of our conversation, where we'll talk about the unique challenges of creating the Firefly Diamond Fat bike, and the personal touches that make it truly special.